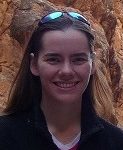 Kristen E. Pope is a freelance writer and editor who lives near Jackson Hole, Wyoming. She specializes in writing about outdoor adventure, science, conservation, climate change, and travel. Her work has been published by National Geographic, Discover, Smithsonian, Audubon, Fodor's, Yale Climate Connections, Hakai, Adventure, Atlas Obscura, Gastro Obscura, Big Sky Journal, Backpacker, Western Confluence, Northwest Travel, Budget Travel, Montecristo, and Ensemble Canada, among other publications.
Kristen is a member of the National Association of Science Writers and Author's Guild. In 2020, she received an honorable mention for Wyoming Arts Council's 2020 Pattie Layser Greater Yellowstone Creative Writing & Journalism Fellowship. In 2018, she traveled to Greenland with the National Science Foundation to cover climate research, and the same year she was named a National Tropical Botanical Gardens Environmental Journalism Fellow. She has a master's degree in Natural Resources from California's Humboldt State University.
To contact Kristen, please email: kristen [at] kepope.com.